Link building has become a buzzword for many marketers and SEOs. That's because if done right it can amplify your marketing efforts. A good SEO linking strategy is a driving force for better rankings, more traffic, better brand awareness, and business growth and rapid development of your company.
What is a backlink building strategy? An SEO linking strategy is a well-thought plan of building links of high quality to your site taking into account your competition, your target audience, keywords you want to rank for, anchor lists, Google algorithms, etc.
There are many website linking strategies out there. So many that you can feel confused and ask yourself.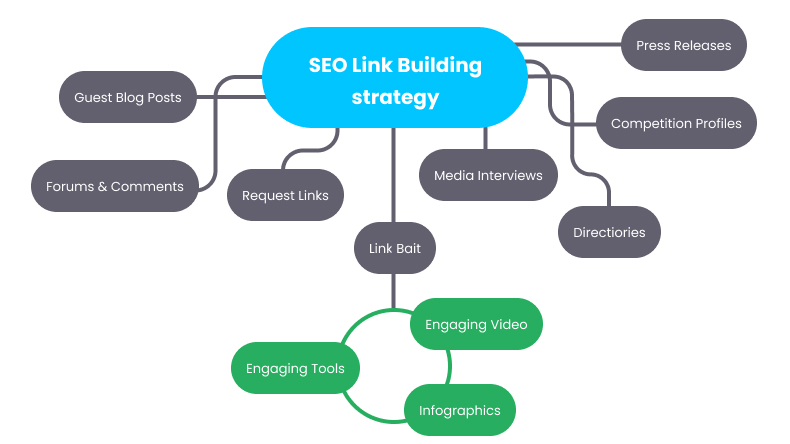 What is the Best Backlink Building Strategy?
It depends on many factors. However, if you are looking for a white hat linkbuilding strategy, we can definitely recommend guest blogging as one of the best website linking strategies that works like a charm for the majority of sites.
The main idea behind guest blogging in terms of SEO is publishing articles relevant to your site on other blogs with inbound backlinks pointing back to your own website. The SEO metrics of these blogs should be good (high DA and TF).
Of course, to implement this powerful SEO linking strategy in the right way and get the most out of it, you should follow these proven steps.
Website Linking Strategies: 7 Important Things to Take into Account with Guest Blogging
Here's a short checklist for creating your next successful backlink building strategy with guest posts.
Your target audience should always come first. Ideally, your guest posts should drive relevant traffic aka potential clients to your site. That's why it's very important to understand the needs of your target audience, their pain points, and where they spend time online. It will help you create content that will be appealing to them.
Creating a list of the best sites for building backlinks. Of course, the websites should be relevant to your niche. They should have excellent SEO metrics (DA, TF, monthly visits, etc.). How do you find them? There are many ways to do this. You can put the URLs of your top 10 competitors in the backlink checker tool like Ahrefs or SemRush and do a detailed analysis of their link profiles. The software will help you check and find sites where your competitors published guest posts linking back to their sites. You can also analyze their anchor lists, which can be very helpful for understanding what anchors you need to use in your own strategy and in what ratio.
Reaching out to the owners of websites in the right way. Once you have the list of high-quality sites for guest posting you need to reach out to the webmasters and negotiate the terms of publishing your articles on their sites. The more emails you send the better.
Creating 10x content for link building. Content is very important when it comes to publishing guest posts. Obviously, it should be of high quality. It should be useful and engaging. And of course, it should meet all the high standards of the SEO optimization best practices.
Amplifying your articles with a powerful content upgrade. If you want to get the most out of your guest posts you should consider using content upgrades. This technique will allow you to get not only the link juice from the sites where you want to publish your articles but also generate some leads for your business. What is a content upgrade? Basically, this is the irresistible content offer that visitors can get in exchange for their emails.
Measuring the results. To be able to improve your link building strategy and understand what works best, you need to measure the results and analyze them on a regular basis. In this way, you'll be able to cut the strategies that don't work well and double down on those that are effective.
Rinse and repeat. Once you know what works best it's high time to scale your link building efforts to get even better results.
How to Plan a Successful Link Building Strategy?
There are many effective website linking strategies out there. No matter what strategy you choose you need to understand that good planning and execution are always the key to your success with link building.
First of all, you need to understand what resources you have for doing link building. What is your budget for it? How much time do you have for it? Are you going to do it on your own? Or hire a professional link builder team like NextLeadLinks.com? What are the timeframes of the project?
How many backlinks are you going to build every month? What about the anchor list? What anchors are you going to use on the sites with the best SEO metrics? What anchors are you going to use on other sites? What are your competitors doing in terms of link building? Where do they get links from?
Once you have answers to all these questions and come up with a well-documented strategy you can start building links to your own site.
How to Execute a Link Building Strategy to Get the Best Results?
As you can see link building requires a lot of time, focus, and energy. If you are busy with other important things for your business chances are you may lack time for executing your link building strategy properly.
Luckily, NextLeadLinks.com has a great solution for you. You can turn to our top-notch link building services and we'll be always happy to do all the hard work for you. Our skilled link builder will negotiate the best prices for you and buy links on the sites that you want.
Just give us your requirements, share your project details and our link building experts will take care of the rest. We are always here to help you rank your website and beat your competition.
Drop us a line to start today!